The Theseus Learning System comes with software that helps you organize complex idea sets and clarify their logical structure. Need to analyze a written argument or construct a persuasive essay? No problem! Just type or paste your ideas into Theseus, and they become easy-to-manipulate building blocks. Then drag, drop and arrange them until simple guidelines are met, and the logical structure will come into focus. (It's like playing with Legos, only you gain insight in the process, coming to understand the argument's strengths and weaknesses!)
The software works hand-in-hand with the Lesson Book, engaging you every step of the way.
Its built-in logic guide and gentle promptings make it an ideal companion for excursions into the world of ideas. Master a few basics, and you'll soon find yourself navigating this world with clarity and confidence!
Here is a screenshot, with a few features highlighted: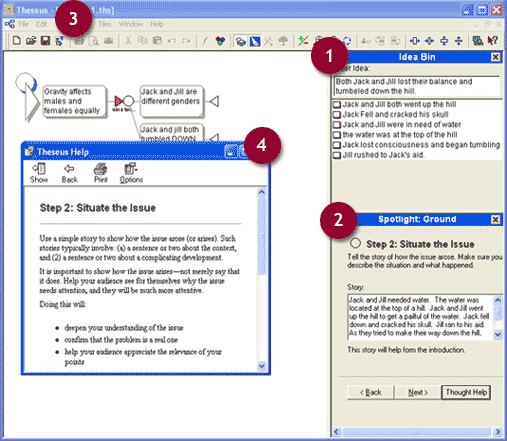 The Idea Bin

The Idea Bin is a place where you can brainstorm ideas before dragging them into the workspace and assembling something with them.

The Spotlight

The Spotlight is an interactive prompt that helps guide you through the process of building a thought tree. It walks you through the Thought Tree Method and prompts you to ask and answer key questions.

Export into Word and PowerPoint

Theseus will export a finished Thought Tree to your word processor
or presentation software. The export takes the form of a detailed "storyline": an outline complete with an introductory paragraph, an overview, and built-in logical flow.

A Complete Help System

Theseus has extensive help resources.

First, there is a built-in tutorial. Second, Help cards provide as-you-go hints to improve your logic as you walk through the steps outlined by the Spotlight.

You may also use the content-sensitive Help button. If you click on this button, then point your cursor at something in your window, Theseus will display the help topic related to that item.

Finally, there is the standard Help System, with a searchable index, table of contents, a glossary, and other reference materials.